Trivento
Malbec
Reserve
Trivento Bodegas Y Viñedos – inspired by the winds
Wednesday 28 January 2015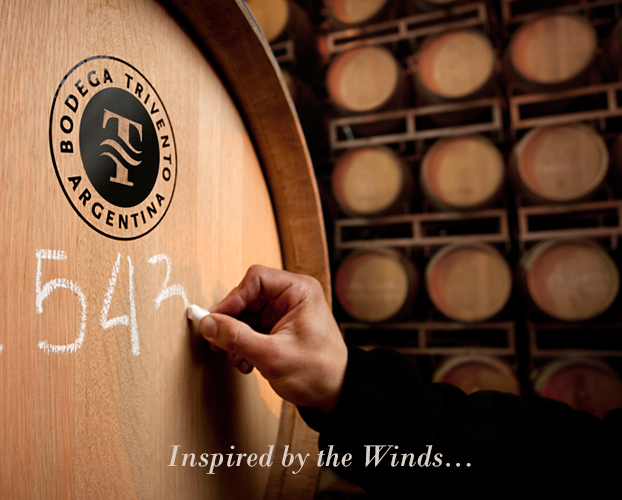 History:
1996 – Trivento is founded in Mendoza, the most prestigious wine-growing region of Argentina and one of the world's Wine Capitals since 2005. A small, 2-million-litre winery and a 154-hectare vineyard in Maipú named Los Vientos comprise the company's first acquisition.
2002 – Working in close collaboration, Enrique Tirado and Federico Galdeano present the first vintage of Trivento Golden Reserve Malbec – an ambassador of premium Argentine wine.
2004 – The company strengthens its position in Argentina's winemaking industry, becoming the second-leading exporter of bottled wine.
2005 – The winery establishes its Integrated Terroir Wines Programme, placing a strong bet on the growth of their high-end wines. This programme integrates the cultivation of fine grapes, the adaptation of grapes to terroirs, and technologies used in the winemaking process. With this foundation, terroir wines embody the expertise of the winemaker and capture the essence of Mendozan soil.
2007 – The foundation is laid at Trivento's high-end winery. With a total production volume of 750,000 litres, this quadruples capacity to produce premium wines. Equipment and state of the art technology are adapted to the small scale, from the reception of the grapes to fermentation.
2008 – The first vintage of the winery's icon wine – Trivento Eolo Malbec 2005, begins its journey through exclusive markets.
2009 – The International Wine & Spirit Competition in the UK awards the company with the trophy for ¨Best Argentinian Wine Producer¨, recognising contributions to the winemaking industry, quality standards, influence on variety and value and consumer education.
2011 – The winery's new Art and Tourism Space opens its doors to the public, offering complete tours of facilities with specialised trilingual guides. The tour culminates in the anteroom of the high-end wines cellar, in the modern art gallery, where visitors can enjoy a professional tasting.
2012 – Robert Parker's prestigious Wine Advocate awards 95 points to Trivento Eolo Malbec 2008, an historic high score since the icon wine's launch.
2013 – Trivento Reserve Malbec becomes a Best Buy and Amado Sur Malbec a Smart Buy in the US market following excellent scores in the renowned publications Wine Enthusiast and Wine Spectator, respectively.
Date posted: July 10, 2017